Posted by Jeanne Stevenson on 23rd Jun 2023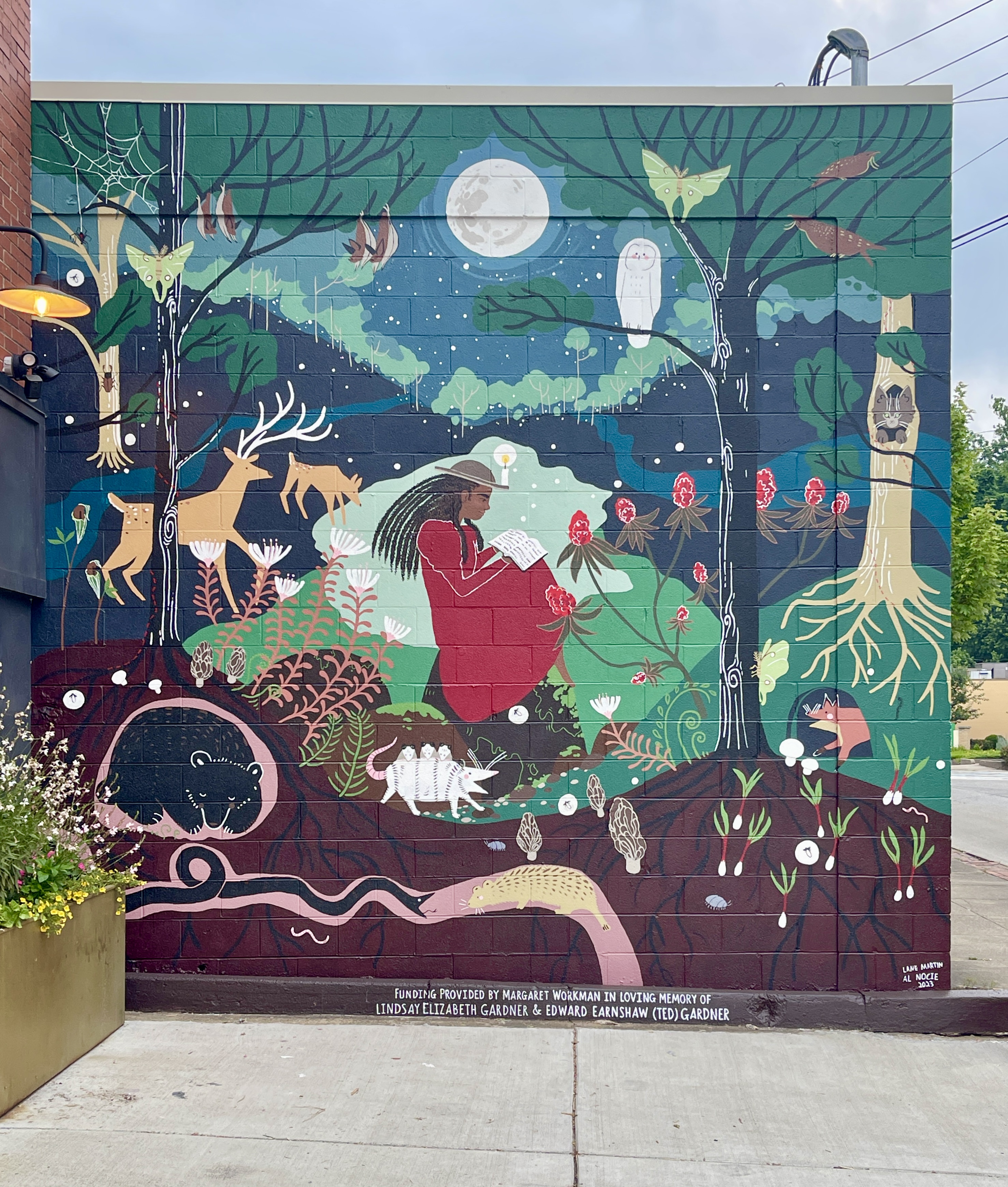 The Lost Moon Holler Mural at 427 Washington Street West centers around a young woman, Mattie, reading under moon light in a magical Appalachian holler. The moody and meticulously hand-painted art is lush with native West Virginia plants, insects, and animals; including ramps, morels, bright Luna moths, fireflies, a mama possum, and a snoozing black bear.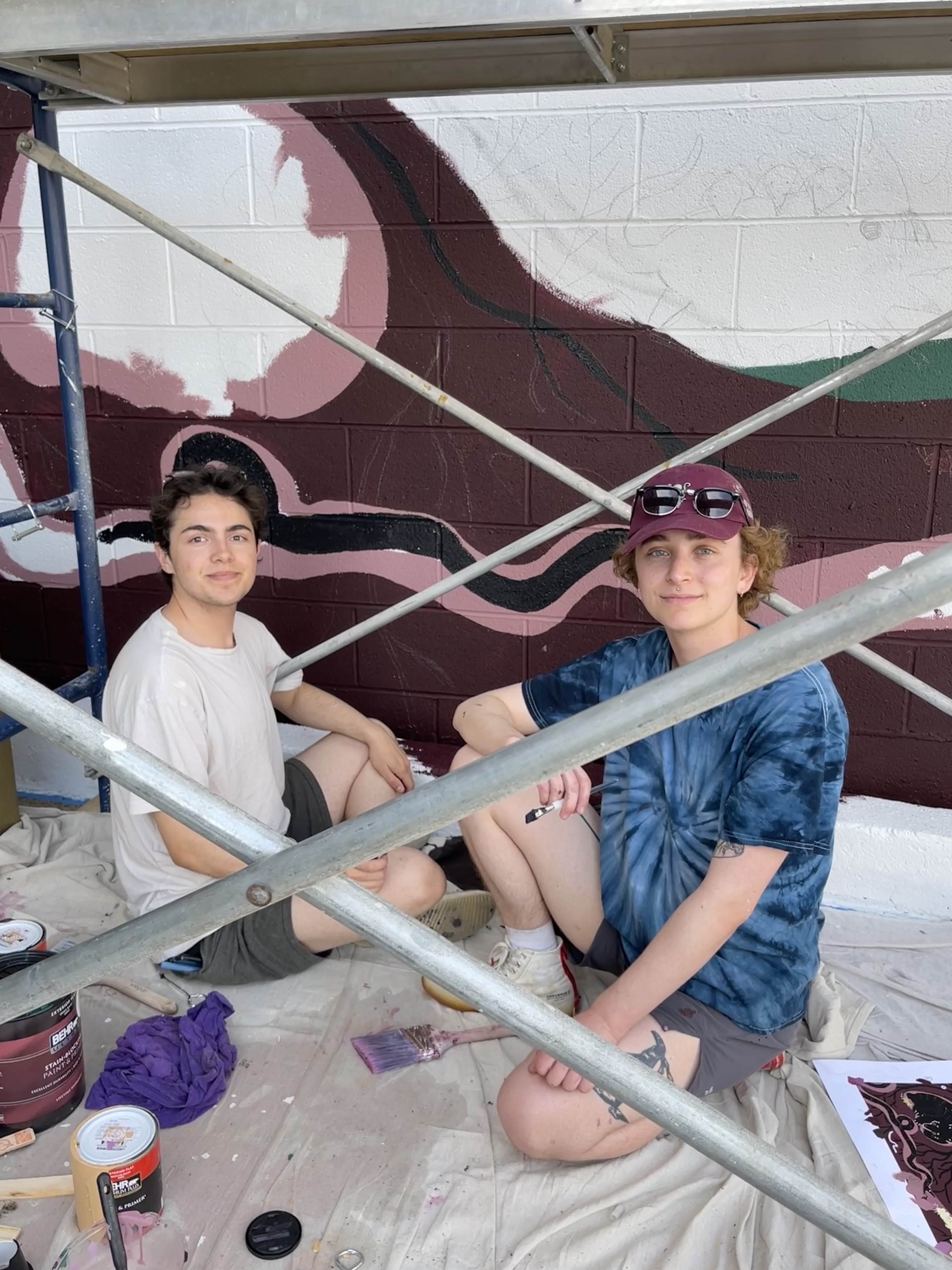 Artists Lane Martin and Al Nocie designed the piece and worked for nearly two weeks hand painting the scene on the 18x18 wall. Lane Martin
Martin, said, "I'm originally from Charleston, and it was such a pleasure bringing Al, the co-artist and my boyfriend, to my hometown after graduating college in Boston. I'd never done art on this scale, so it was definitely daunting, but working on the mural was incredibly rewarding. Putting our heads together with the common goal of creating a beautiful new landmark for the people of Charleston was a priceless experience."
Nocie said, "I'm from Las Vegas, but have lived all over in the US and in Spain. I love visiting Charleston, West Virginia where I'm always surprised by the warmth and hospitality. The community is so welcoming. I'm proud to be a small part of adding to the charm and diversity of Charleston, and hope to come down and do some more!"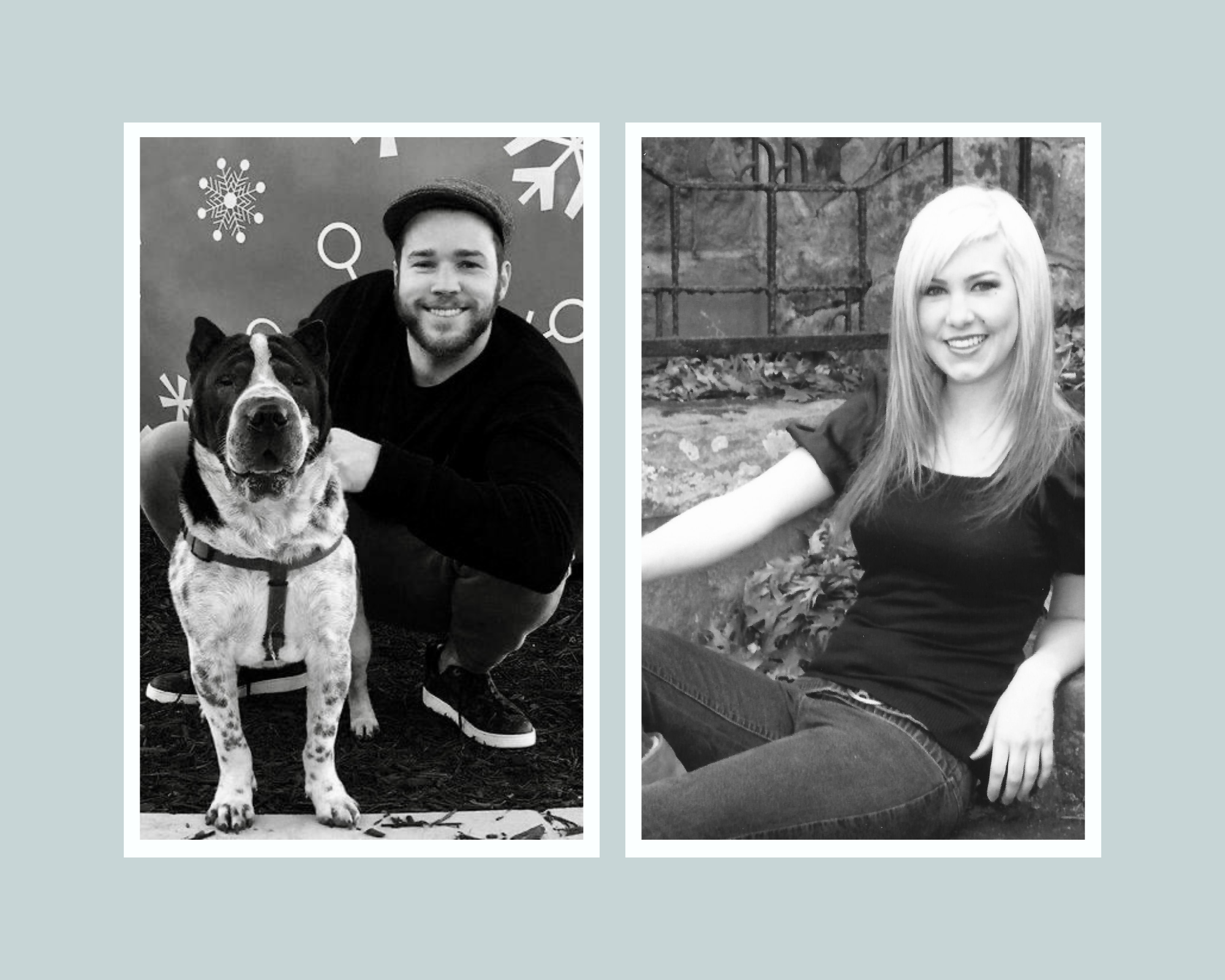 The entire project was generously funded by West Virginia native and former West Virginia Supreme Court Justice Margaret L. Workman in memory of two of her remarkable children: Lindsay Elizabeth Gardner and Edward Earnshaw (Ted) Gardner. "I was happy to sponsor this wonderful addition to Charleston's public art," said Workman. "It has been a vision of Jeanne's for a long time and I wanted to help make that vision a reality in memory of my children, Lindsay and Ted, because Jeanne was such a special person to all three of my kids. The mural helps beautify the West Side, where I spent many of my growing-up years, and it will be an educational tool for schoolchildren to learn about our state."
Echo-Lit co-owner Jeanne M. Stevenson spearheaded the year-long project. The mural is reminiscent of Stevenson's childhood in the quiet hollers of Wayne County, West Virginia. "I really wanted to highlight the incredible biodiversity hidden in our hollers," Stevenson said. "I spent much of my childhood finding solace in books and in exploring our beautiful forests." Stevenson said many community members stepped up to help. "Like Miss Mattie, I had a variety of friendly support surrounding me. Jeff Pierson from the Office of Public art advised us. Tighe Bullock loaned us scaffolding. Melissa Doty, a veteran muralist, gave us countless tips. Megan Daily hand painted our funding language, and our dear friend Dawn Lemle from Capitol Conservation District along with their partnership with Great Kanawha RC&D stepped in to act as our financial agent."
Lemle said, "we are beyond proud and excited to work with Jeanne on this project to showcase artwork that highlights our mountain heritage and so many of our native natural resources. When Jeanne mentioned the project, I knew we had to help. And this project is more than just art as it works to educate the community and spark conversation on conservation issues."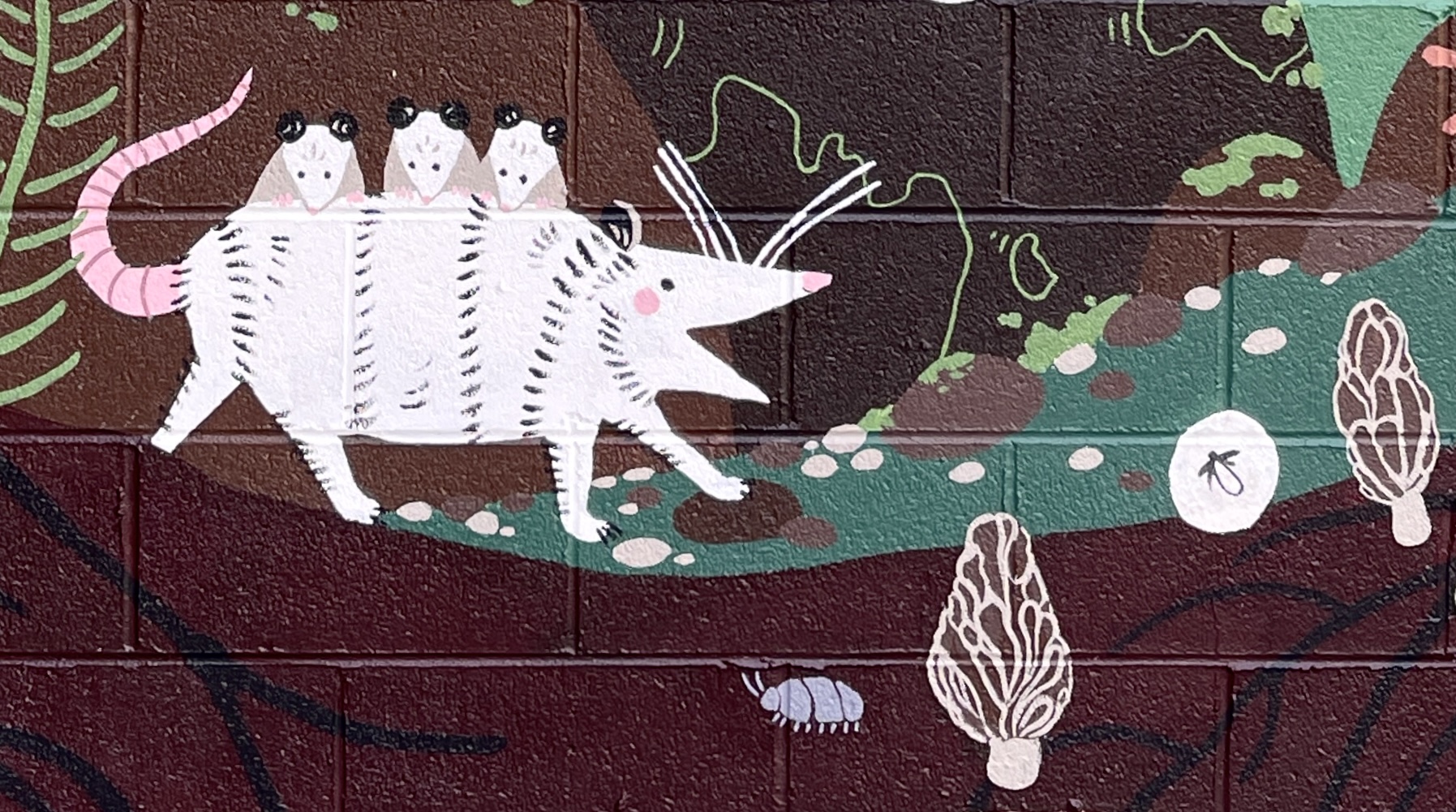 Lost Moon Holler is packed with native West Virginia plants, insects, and animals and folks are invited to visit the mural to learn more about West Virginia's incredible bio-diversity.
ANIMALS
White-tailed Deer

Eastern Whip-poor-will
Red Fox
Black Bear
Virginia Opossum
Black Rat Snake
Bobcat
American Barn Owl
Long-tailed Weasel
Big Brown Bat
INSECTS
Black Widow Spider
Luna Moth
American Giant Millipede
Stag Beetle
Red Ants
Firefly
PLANTS
Rhododendron
White Bergamot
Ramps
Common Morel
Fiddlehead Fern
Jack in the Pulpit