​Witches and Vampires and Ghosts - Oh My!
First, I would like to say that I have been robbed - I have been robbed of a proper Halloween celebration this year. This year, Halloween is not only on a Saturday, it's a full moon. My calendar should be full of fantastic parties, Rocky Horror sing-a-longs, and my family's annual pilgrimage to multiple haunted houses or trails. Normally, a week or two into October, I'm locking down exactly what variety of spooky girl I want to dress up as for Halloween. By now, I should have hundreds of items pinned on Pinterest and a steadily growing stash of accessories from which to build my perfect costume. I should be keeping an eye on my mailbox in anticipation of a custom-made item - a necklace or brooch to tie the whole ensemble together. Sadly, there is none of that as we all hunker down at home keeping one another safe as we quarantine. Instead, I'm curating a watch-list of movies and books to keep me entertained as the moon waxes and the nights get colder. This year we will place a bowl of candy on the porch for the two or three trick-or-treaters that make their way to our home each year, pop up a big bowl of popcorn, and marathon our way through several spooky movies. Until then, I am keeping myself properly creeped out with tales of witches, vampires, and ghosts. Here are a few recommendations for reads to keep you in the Halloween mood for the remaining weeks of Spooky Season.
Practical Magic - Alice Hoffman
I read Practical Magic a few years ago after catching the movie on tv. I was discussing the movie with a friend and got the standard, "but have you tread the book? The book is SO MUCH BETTER than the movie!" Well, of course the book is going to be better, so I downloaded the audiobook - full of anticipation. It was a delightful take on modern witches born of a long line of hereditary magical women. Twenty years after the release of Practical Magic Hoffman published her first Owens prequel - The Rules of Magic - which weaves the history of Franny and Jet (and their brother Vincent) who will grow to become the protagonists in Practical Magic. This week, another prequel story of the Owens women was released - Magic Lessons - telling the story of the Maria Owens the first of the Owens lineage. In Magic Lessons, the reader sees the foundations of the curse that follows the witches throughout the decades - no good will come to the men who love an Owens witch. I love that Hoffman has worked her way backwards from the original novel, shedding light first on the women of Practical Magic then going further back to the foundations of the family. I particularly enjoyed the "a-ha!" Moment I had when I noticed a few similarities between Maria Owens' daughter Faith and Kit from The Witch at Blackbird Pond.
The Witches - Ronald Dahl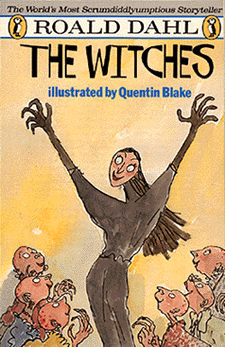 My boys were fans of Ronald Dahl growing up - James and the Giant Peach and Charlie and the Chocolate Factory being up at the top of the list; so of course we read The Witches at some point. My boys were enthralled by the terrible wickedness of the Grand High Witch and terrified by the thought of being turned into mice by eating chocolate (except my younger kid was happy to be immune to the poison since he hates chocolate). Where we discovered the movie adaptation of The Witches, it became a household favorite. Angelica Houston's Grand High Witch is just perfect, as is almost anything Huston does (her Mortician Addams - *chef's kiss*). I'm hesitant to get excited for the remake with Octavia Spencer, Anne Hathaway, and Stanley Tucci; but I'm a glass full kinda gal. I will be watching this on HBOMAX October 22.
Good Omens: The Nice and Accurate Prophecies of Agnes Nutter, Witch - Neil Gaiman and Terry Pratchett
If you are a regular reader of this blog, first - thank you; second, sorry-not-sorry but I am going to take advantage of every legitimate opportunity to recommend this book. I haven't figured out a good way to work it into every blog post or book recommendation, but I'll get there. Imagine if Monty Python's Flying Circus had followed up their take on the Crusades with a similar take on the Apocalypse - that is my elevator pitch of Good Omens. I won't wax rhapsodic about this book yet again, just know that Agnes Nutter and Anathema are delightful witches and they aren't even the main focus of the book - it's just a dream of a book. Your mileage may vary; if you hate it, don't reach out to tell me. I just don't know how to respond top folks who don't love it, even though I know they exist.
These next two books are in my ever-growing list of To Be Read books, so I can't yet recommend them, but invite you to read them - let me know if you read either, but of course, no spoilers please.
The Near Witch - Victoria Schwab
"The Near Witch is only an old story told to frighten children.
If the wind calls at night, you must not listen. The wind is lonely, and always looking for company.
And there are no strangers in the town of Near.
These are the truths that Lexi has heard all her life.
But when an actual stranger - a boy who seems to fade like smoke - appears outside her home on the moor at night, she knows that at least one of these sayings is no longer true."
This is the description that prompted me to add The Near Witch to my book stack. As I said, I haven't read it yet; but as Halloween approaches, I think its time is nearly come.
A Discovery of Witches - Deborah Harkness
When I was telling HELWIC (Head Echo-Lit Witch in Charge) Jeanne Stevenson that I was going to list some books about witches this week, she was quick to ask if I'd read A Discovery of Witches. I had to admit that I haven't yet read it. When I read the publisher's description, I had to admit I've been remiss in not yet getting around to reading this book.
"Diana Bishop learns firsthand just how important a single book can be. When Diana, a reserved historian, calls up a bewitched manuscript from the archives of the Bodleian Library at Oxford University, she has no idea how this simple act will change her life. Although she herself is a witch, Diana denies her power and shuns the society of fellow witches and wizards, so she has no notion of the importance of the alchemical tome she has summoned. Diana is the first person in centuries to have successfully retrieved Ashmole 782, long sought by witches, demons and vampires alike, and her unwitting accomplishment soon earns her plenty of unwanted notice, including that of Matthew Clairmont, a fellow researcher with an interest in Ashmole 782, who just happens to be a 1,500-year-old vampire."
So, this sounds like it's right up my alley - my first thought was The DaVinci Code meets The Vampire Lestat? Sign me up. It's apparently the first of a series, so I imagine I'm setting myself up for a long relationship with these characters.
Speaking of vampires...
Interview With A Vampire - Anne Rice
Anne Rice was probably my first foray into vampire fiction other than Dracula. I think I might have even read it before Stephen King's 'Salem's Lot. This is yet another one of those books I read before it was exactly appropriate, but that seems to be the story of my life. I loved the concept of a repentant vampire laying out the story of his misbegotten existence. I was absolutely enchanted with Rice's portrayal of the city of New Orleans - just as much as her characters. I managed to make it to New Orleans years ago for vacation, and it was amazing to get to experience the city and to breathe in the locale. The sequel - The Vampire Lestat came out some time while I was in middle school and my best friends and I absolutely adored it. Rice managed to issue new books in her Vampire Chronicles fairly regularly throughout the late 1980s and 1990s and I kept up with them until college class work got in the way of reading for pleasure. I just checked out the audiobook via Libby and I'm looking forward to revisiting some old fiends - erm, I mean friends.
Dracula - Bram Stoker
I'm not going to go into much detail about this one. It's a classic for a reason and any fan of this sub genre has probably already read it. If you haven't yet, you have my permission to close this blog and find a way to read it, now.
This is the book that set the rules for vampire fiction - no sunlight, no crosses, bats, etc. So whenever an author tries to construct their own vampire universe with its own rules, there is inevitably push back from folks who are die-hard adherents to the classic conventions. In addition to detailed descriptions of shadowy London streets, wolf-filled forests and foreboding castles there is a lush sensuality to Dracula. I have no doubt that Victorian ladies and gentlemen were simultaneously titillated and scandalized by the novel.
The Strain - Guillermo del Toro and Chuck Hogan
The Strain starts out like so many epidemic stories with the introduction of disease vectors to a population center. When a plane lands at JFK, it goes dark on the tarmac and a call goes out to the CDC. Everyone aboard is dead except four survivors who all too soon make their way out into the densely populated city. Quickly the city (and eventually the world?) is overwhelmed with the dead, the dying and then the undead. I think what I loved about this book series is that vampirism is portrayed as biological as opposed to being the result of darkness and evil incarnate. This isn't to say that vampirism doesn't buoy the darkest aspects of humanity, because it does of course. The book is so well written that I still have very visceral visual memories from the book and hoo-boy is it dark imagery. For folks who get easily overwhelmed by their imaginations while reading - keep the lights on for this one! It's both gross and spooky!
NOS4A2 - Joe Hill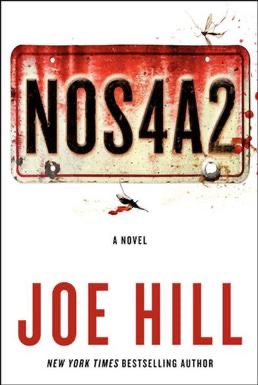 Villain Charles Manx doesn't necessarily meet the strict definition of a vampire - I didn't remember any blood-sucking; but it's been a while. If memory serves, he was more of a psychic vampire. I read this right after it came out, and my memory of the specifics has been dulled by so many books read since; but I my thoughts of this book leave me with a remaining echo of thrilling terror. It looks like it is time for a re-read.
Twilight series - Stephanie Meyers
Look, Twilight has gotten enough of a bad rap all over the internet to last all of us until the end of time. Did I love the Twilight books? Not exactly. I did burn through the trilogy while being delayed in Newark airport (both ways - what the heck!?), so I give it a pass for providing entertainment in a time I would normally have been pacing and cursing. I get that sparkly teen vampires aren't exactly everyone's cup of tea; but I definitely credit the Twilight series for engaging teen readers and helping boost the YA fantasy genre in general. Meyers has revisited the Twilight characters recently with Midnight Sun - written from the perspective of Edward (the vampire, for those of you unfamiliar). I don't have any immediate plans to read Midnight Sun; but if I find Newark International on my travel itinerary any time soon, I know what book I'll be tucking into my carry-on.
I am Legend - Richard Matheson
I enjoyed the Will Smith-driven movie of the same name as the mid-century novel, but I've never read the book itself. I'm a fan of sci-fi from the 1950's and 1960's in general and post-apocalyptic sci-fi in particular, so this is one of those books that I hope to get around to eventually.
Things that say "boo" in the night...
The Haunting of Hill House - Shirley Jackson and The Turn of the Screw - Henry James
I just finished a massive binge of the Hauntings on Netflix over the past two weeks. I love that Netflix has established a family of series along the lines of American Horror Story - related thematically and with cast that carries from one season to the next without necessarily being continuous. I love the gothic atmosphere in both seasons and hope there will be more. I'd love to dive into both books that have inspired each season, but knowing myself it will be a while as I am continuously distracted by new shiny books with gorgeous ad campaigns and the comfort of re-reads of eternal favorites.
Horrorstör - Grady Hendrix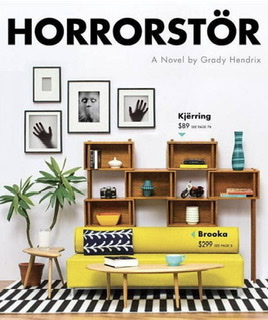 After twenty-some hours of dark dusty hallways and expansive, spooky estates I was a little done with the haunted manor trope (for a while, I'll be back in a few days). I wanted a palate cleanser. Horrorstör was exactly what I needed. The story takes place in a decidedly Scandinavian big box store that is nothing like IKEA (retail entity names have been changed to protect the haunted). Unfortunately for the employees of Orsk (officially referred to as "Partners" in the employee handbook), the store was built directly atop the site of a nineteenth century prison run by a sadistic warden. The spirits of the prison, warden, and prisoners have manifested themselves throughout the cleanly designed floor plan, and Orsk does not spark joy for them. The tone of the book is deliciously tongue-in-cheek, especially the excerpts from the store catalog and employee handbook. I found Horrorstör via the Hoopla app (shout out to my favorite - Kanawaha County Public Library - hollllaaaaa!) and co-narrator Bronson Pinchot's turn as the voice of Orsk was possibly my favorite thing about the entire book. This is my second audiobook narrated by Pinchot (you might remember him as Balki from Perfect Strangers or the the coke fiend Hollywood exec in True Romance if you were alive in the 90s also , his narration of Stephen King's The Eyes of the Dragon was inspired - 5 out of 5 stars) and I foresee doing a search to see what else he has read. This is certainly not the best ghost story I've ever read, but it was light-hearted and humorous, despite the generalized chaos and carnage of the third act. Anyone who has ever worked retail (especially corporate retail) will get a giggle or two at Hendrix's take on corporate culture.
The Graveyard Book - Neil Gaiman
A toddler makes his way out of his home to explore the graveyard near his house just before his family is murdered by the mysterious Jack. When the graveyard's resident ghosts realize that the boy is now an orphan, they decide to show the child charity and raise them within the graveyard while reformed vampire Silas is tasked with providing for the child's corporeal needs. The ghosts name the child Nobody "Bod" Owens because he looks like nobody they know.
I loved that this story is told via a series of vignettes that follow Bod through his life rather than a single fluid story line that moves directly from point A to point B. I can imagine that to ghosts, for whom time must move much more slowly than it does for the living, therefore moments that seem widespread to the living, taking place over years or decades, are more like consecutive days to those who exist unfettered by time.
Lincoln in the Bardo - George Sanders
This is one of those books you see on "must read" and prize nomination lists over and over again. I didn't even realize it was a ghost story until I started doing some reading for this blog (despite how it may or may not look, I actually attempt to do some reading in preparation for each week's blog). Until seeing it on a list of "must read ghost stories," I just assumed it was standard historical fiction. Now that I've read up on it a bit, my interest is certainly piqued. Lincoln in the Bardo is the story of Abraham's profound grief following the death of his son Willie. It takes place in the Bardo which is a place described as "between death and rebirth" and the only reason I hesitate before checking this one out from the library is it as described as "experimental fiction." I'm not saying it's not beautiful or well-written, the reviews tell me that it absolutely is. I just find less linear fiction to be a terrific strain on my ADHD-strained attention span. Though the fact that the audiobook is listed as a full cast production balances the scales a bit. I love me a full cast audiobook (American Gods and World War Z come quickly to mind). I have no idea if this will ever make its way to my official to-be-read list, but it's certainly got potential.
I'm looking forward to checking several of these spooky reads off my list in the two weeks remaining until Halloween!
(Who am I kidding; I'm always up for a creepy story, regardless of season.)