Picture Books for Big Kids
As a little girl, my favorite way to blow my allowance (one whole dollar a week!) was at the Arcade News bookstore. I started out with picture books and small chapter books; but quickly found myself drawn to the squeaky, spinning rounders full of colorful comic books. I distinctly remember my first sighting of a comic book with a female character as the main feature on the cover. She was dressed in a tight, shiny Lycra jumpsuit with roller skates and a disco ball necklace (it was the 1980s, we didn't know any better) and surrounded by bright strobes of light. From then on, my allowance was sure to go to feed my newfound obsession with comics. Dazzler (she of the disco extravagance) was my introduction to superheroes other than the Spider-Man (I kept up with Peter Parker and MJ via daily comic strips in the newspaper). I was quickly versed a universe populated by superheroes and mutants. When I was up to speed on my Dazzler issues, I could get a quick girl hero fix with an issue of Spider-Woman. I spent hours copying and tracing the faces and figures I found in the pages of my comics. Because Dazzler was a mutant (a human born with genetically altered DNA that provided amazing powers and abilities), I quickly found my way to the X-Men. I spent years following the uncanny adventures of Charles Xavier and his amazing students. I even briefly considered applying to the Kubert School of Cartoon and Graphic Arts to learn how to write and draw comic books. My affair with comics died off for a while during college - comics were not recognized as a legitimate art form (and there are plenty of artists and professors who still deny the artistic value of comic/graphic arts) - but was reawakened as my two young sons began to read and fall in love with hero tales and adventures.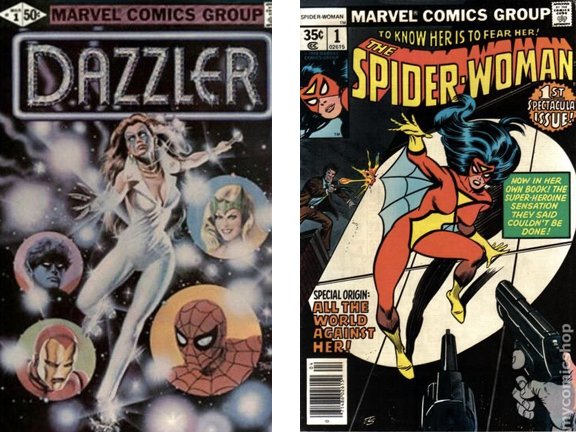 One of my favorite trends of the last twenty to thirty years in entertainment has been the embrace of comic books as source material. As comic culture has gained greater and greater influence in the entertainment industry, adaptations of comics have to meet the standards of both the loyal fans and casual viewers alike. I have watched, expectant and exhilarated, as comic giants DC and Marvel have gone from niche releases to billion dollar enterprises. Occasionally, I have discovered a few comic series through movies and serialized adaptations and I have followed the news of adaptations and casting of favorite runs alongside my fellow fans. It used to be that comics were limited to a few narrow genres, but now comics cater to a full range of reading tastes. I've spent the past week re-watching the first season of Netflix's take on The Umbrella Academy in anticipation of the release of Season 2. Since I've been such a comic book frame of mind, I thought I'd share a few of my favorite titles for anyone who might want to expand their graphic art reading.
Y: the Last Man - Brian K. Vaughan, pencilled by Pia Guerra - published by Vertigo

This post-apocalyptic comic series takes place in a world where a plague has killed all mammals with a y-chromosome. Women are not left unscathed, however. As planes fall from the sky and trains skip their tracks, women and girls alike are met with death and tragedy; left to pick up the pieces and figure out how to continue on in a world without men. The most pressing question being - how will humanity continue without a way to make more people?
Yorick Brown is an amateur escape artist and street performer. He is also the son of a U.S. Representative and the lone male human survivor of the plague. As the world collapses around him, Yorick and his (male) capuchin monkey Ampersand struggle to survive. Yorick is accompanied by Agent 355 as they attempt to locate scientists who can help find a way to restart human reproduction.
The story was published as individual comics which were then compiled into ten trade paperbacks (TPB). FX network was well into casting and production of a series adaptation of Y: the Last Man as recently as late 2019; but is stuck in a holding pattern due to Covid-19.
Locke & Key - Joe Hill, pencilled by Gabriel Rodriguez - published by IDW Publishing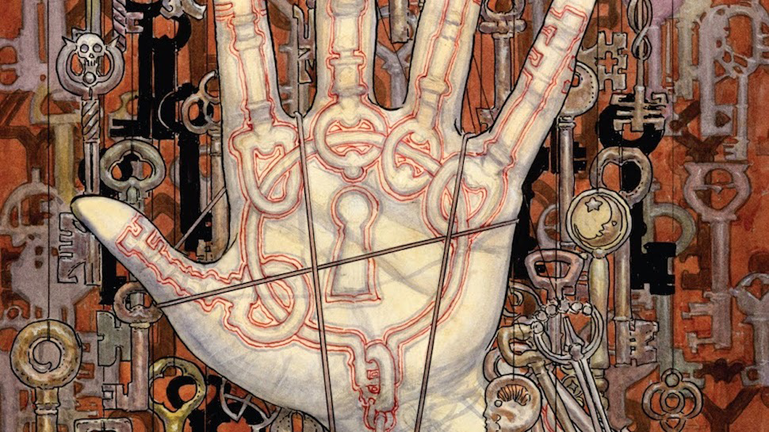 Joe Hill (son of horror master Stephen King) crafts a gorgeous tale of horror centered around the seemingly cursed Locke family. After the brutal murder of their father, the three Locke siblings move into their father's ancestral home with their mother. The home sits atop a portal to another dimension, suffusing Keyhouse with dark magic tied to a series of demonic keys which unlock demonic magic which provide terrifying magical skills to those who use the keys. The demons work to trick and connive the Locke children and their friends into utilizing the keys in hopes that they will find and use the Omega Key which is the only stopgap between this world and the evil dimension at the other end of the portal.
The Locke and Key comics are also available as singles, TPB, and there is a boxset available as well. The ten episode adaptation can be seen on Netflix.
FABLES - Bill Willingham with multiple pencillers including Mark Buckingham, Ian Medina,
and Steve Leialoha - published by Vertigo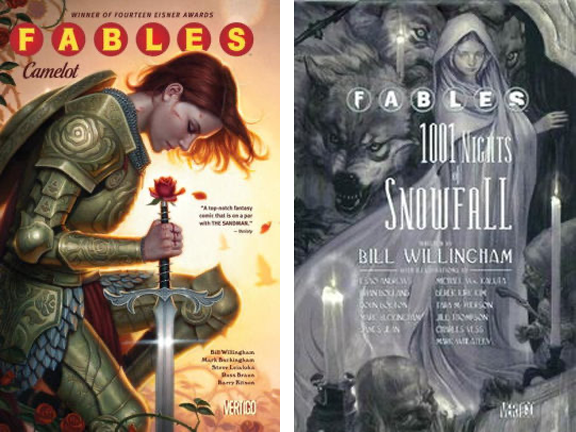 Familiar characters from fairy tales and folk lore such as Snow White, Price Charming, Rose Red, and Bigby Wolf have been driven from their homeland by an enemy known as "The Adversary." These fantastical folk have sought refuge hiding in plain sight among non-magical people split between two communities in New York - a farm in Upstate where the folk who cannot easily integrate live, and in Fabletown, in the midst of New York City. FABLES follows their lives among mundane humans ("Mundies"), their tangled romantic engagements, and their battles against The Adversary.
Fables ran for almost thirteen years, in addition to several spin-offs, providing hundreds of single comics and dozens of TPBs. My favorite of the stand-alone spin-offs is 1001 Nights of Snowfall; if you are interested in exploring FABLES, this is where I'd recommend starting.
Mouse Guard - written and illustrated by David Petersen - published by Archaia Studios Press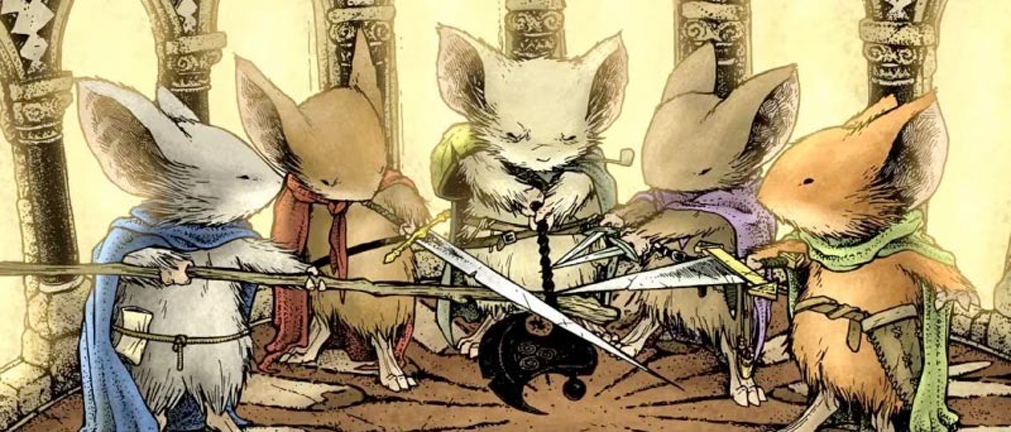 Set in a Medieval Earth without humans, Mouse Guard regales readers with tales of bold and brave warriors, sworn to protect their fellow rodents against predator foes as they travel throughout their world. I love that Mouse Guard has all the daring adventure of Arthurian lore or Robin Hood - chivalry and swordplay while also absolutely adorable (and fierce - so very, very, fierce!).
Issues were published singly, in the less common square format (8" x 8") and collected in a variety of hardbound books. Mouse Guard has also been adapted into table top game formats as Mouse Guard and Mouse Guard: Swords & Strongholds.
Saga - Brian K. Vaughan - pencilled by Fiona Staples - published by Image Comics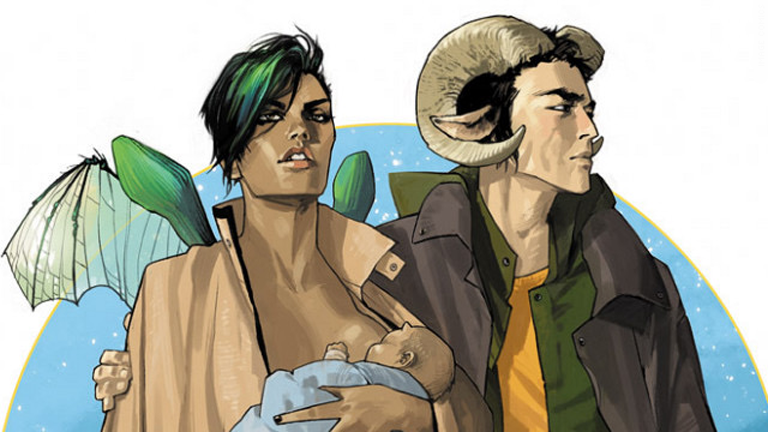 Alana and Marko are on the run from their families. In this gorgeously illustrated series, the (literally) star-crossed lovers are trying to keep safe their bi-species daughter Hazel, to whom Alana has just given birth. Landfall and it's sole satellite Wreath have been at war for generations, despite that destruction of either world spells certain doom for the other. To protect both homeworlds, their battles are outsourced to other planets. After Wreath and Landfall come to an uneasy peace, the battles continue throughout the reaches of the known universe. Wreath and its inhabitants are ruled by magic; Landfall is a technological society. The two societies regard each other with great disdain. When it becomes known that prison guard Alana has freed and escaped with her prisoner Marko and that she has allowed him to father her child; both societies send out factions to capture the new family at almost any cost. Hazel narrates her birth in the first issue and appears throughout the series to provide omniscient narration on the interplanetary bounty chase.
Saga is available as single issues and the first half of the series is encapsulated in eight TPBs. The series has been on indefinite hiatus since July 2018.
The Umbrella Academy - Gerard Way, pencilled by Gabriel Bá - published by Dark Horse Comics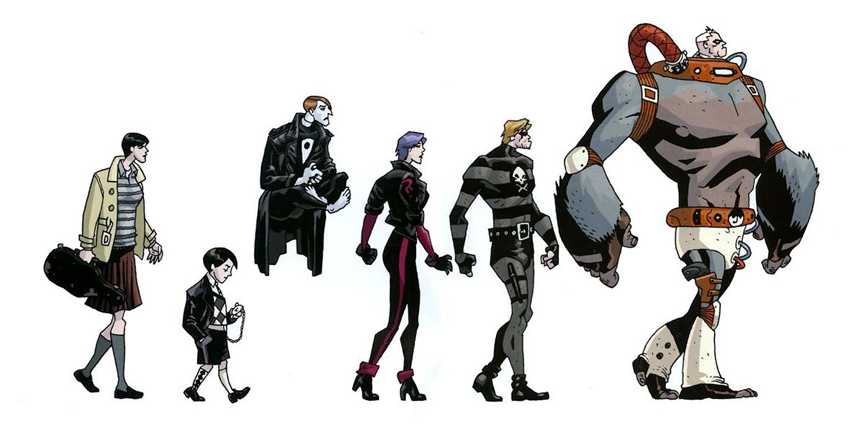 My Chemical Romance frontman Gerard Way created The Umbrella Academy as an initial six-issue run. He tells the story of the unimaginable birth of 43 infants, all within hours of the final blow of a "cosmic wrestling match" - each child is born to a mother who the day earlier showed no signs of pregnancy. Sir Reginald Hargreeves adopts (buys) and raises seven of these children at his mysterious Umbrella Academy. He determines their powers and talents and sets out to raise and prepare them to one day save the world. Raised as family, the seven fight for and against one another like families so often do.
The Umbrella Academy was published as 19 individual issues, four short stories and a one-shot issue. The ten episode first season in available on Netflix now, season two premieres July 31.