Outdoor Books for Indoor Days
As I have said many times before, I'm an indoorsy kinda gal. I am married to an outdoorsy guy. He hikes and mountain bikes and rock climbs. I get vertigo standing too close to a sharp incline, my husband sees an sharp incline and tries to determine whether he can climb it or bike up and down it. Opposites attract, the saying goes. I'm a fiction reader; he's more of a non-fiction guy, but he loves a well-written fiction story, too. He prefers to pick his books from the Pulitzer list - nominees and winners. If his literary happy place could be described in terms of a Venn diagram, his preferred reading would be found in the overlap between prize-winning books and books about outdoor sport and adventure. You can probably imagine what our shared Audible account library looks like. His tales of harrowing adventure involve freakish surf breaks and seasoned outdoorsmen (and women) surviving impossible situations due to fortitude, resilience, and years of practical knowledge. Mine revolve around wizards and fae-folk, paranormal beings, and spooky creatures. My heroes and heroines thrive by relying on magical abilities, or breaking ancient curses. I asked my mister to share a few recommendations of great books of outdoor adventure; please note that the summaries are quoted from online sources.
Surf is Where You Find It - Gerry Lopez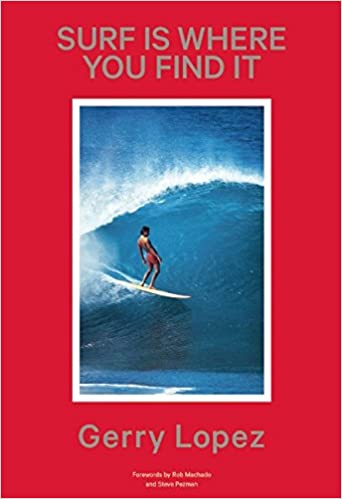 Written by one of the most revered surfers of his generation, Gerry Lopez's Surf Is Where You Find Itis a collection of stories about a lifetime of surfing. But more than that, it is a collection of stories about the lessons learned from surfing. It presents 38 stories about those who have been influential in the sport — surfing anytime, anywhere, and in any way. Lopez, an innovator in stand-up-paddle (one of the fastest growing water sports in the world), now shares his stories about pioneering that sport. Conveyed in Gerry's unique voice, augmented with photos from his personal collection, this book is a classic for surf enthusiasts everywhere.
Barbarian Days: A Surfing Life - William Finnegan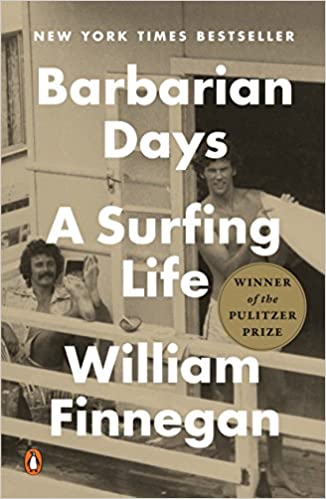 Barbarian Days is William Finnegan's memoir of an obsession, a complex enchantment. Surfing only looks like a sport. To initiates, it is something else: a beautiful addiction, a demanding course of study, a morally dangerous pastime, a way of life.
Raised in California and Hawaii, Finnegan started surfing as a child. He has chased waves all over the world, wandering for years through the South Pacific, Australia, Asia, Africa. A bookish boy, and then an excessively adventurous young man, he went on to become a distinguished writer and war reporter. Barbarian Days takes us deep into unfamiliar worlds, some of them right under our noses—off the coasts of New York and San Francisco. It immerses the reader in the edgy camaraderie of close male friendships forged in challenging waves.
Finnegan shares stories of life in a whites-only gang in a tough school in Honolulu. He shows us a world turned upside down for kids and adults alike by the social upheavals of the 1960s. He details the intricacies of famous waves and his own apprenticeships to them. Youthful folly—he drops LSD while riding huge Honolua Bay, on Maui—is served up with rueful humor. As Finnegan's travels take him ever farther afield, he discovers the picturesque simplicity of a Samoan fishing village, dissects the sexual politics of Tongan interactions with Americans and Japanese, and navigates the Indonesian black market while nearly succumbing to malaria. Throughout, he surfs, carrying readers with him on rides of harrowing, unprecedented lucidity.
Barbarian Days is an old-school adventure story, an intellectual autobiography, a social history, a literary road movie, and an extraordinary exploration of the gradual mastering of an exacting, little-understood art.
Into Thin Air: A Personal Account of the Mt. Everest Disaster - Jon Krakauer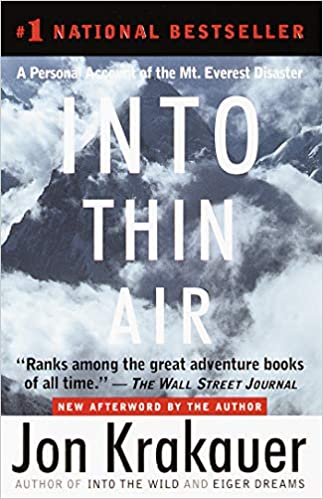 A bank of clouds was assembling on the not-so-distant horizon, but journalist-mountaineer Jon Krakauer, standing on the summit of Mt. Everest, saw nothing that "suggested that a murderous storm was bearing down." He was wrong. The storm, which claimed five lives and left countless more--including Krakauer's--in guilt-ridden disarray, would also provide the impetus for Into Thin Air, Krakauer's epic account of the May 1996 disaster.
By writing Into Thin Air, Krakauer may have hoped to exorcise some of his own demons and lay to rest some of the painful questions that still surround the event. He takes great pains to provide a balanced picture of the people and events he witnessed and gives due credit to the tireless and dedicated Sherpas. He also avoids blasting easy targets such as Sandy Pittman, the wealthy socialite who brought an espresso maker along on the expedition. Krakauer's highly personal inquiry into the catastrophe provides a great deal of insight into what went wrong. But for Krakauer himself, further interviews and investigations only lead him to the conclusion that his perceived failures were directly responsible for a fellow climber's death. Clearly, Krakauer remains haunted by the disaster, and although he relates a number of incidents in which he acted selflessly and even heroically, he seems unable to view those instances objectively. In the end, despite his evenhanded and even generous assessment of others' actions, he reserves a full measure of vitriol for himself.
Pilgrim's Wilderness: A True Story of Faith and Madness on the Alaska Frontier - Tom Kizzia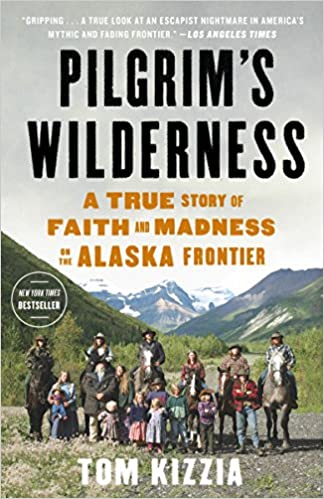 When Papa Pilgrim, his wife, and their fifteen children appeared in the Alaska frontier outpost of McCarthy, their new neighbors saw them as a shining example of the homespun Christian ideal. But behind the family's proud piety and beautiful old-timey music lay Pilgrim's dark past: his strange connection to the Kennedy assassination and a trail of chaos and anguish that followed him from Dallas and New Mexico. Pilgrim soon sparked a tense confrontation with the National Park Service fiercely dividing the community over where a citizen's rights end and the government's power begins. As the battle grew more intense, the turmoil in his brood made it increasingly difficult to tell whether his children were messianic followers or hostages in desperate need of rescue.
In this powerful piece of Americana, written with uncommon grace and high drama, veteran Alaska journalist, Tom Kizzia uses his unparalleled access to capture an era-defining clash between environmentalists and pioneers ignited by a mesmerizing sociopath who held a town and a family captive.
The Overstory - Richard Powers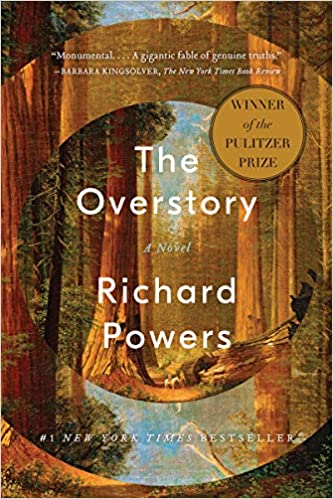 The Overstory, winner of the Pulitzer Prize in Fiction, is a sweeping, impassioned work of activism and resistance that is also a stunning evocation of—and paean to—the natural world. From the roots to the crown and back to the seeds, Richard Powers's twelfth novel unfolds in concentric rings of interlocking fables that range from antebellum New York to the late twentieth-century Timber Wars of the Pacific Northwest and beyond. There is a world alongside ours—vast, slow, interconnected, resourceful, magnificently inventive, and almost invisible to us. This is the story of a handful of people who learn how to see that world and who are drawn up into its unfolding catastrophe.
"Monumental…The Overstory accomplishes what few living writers from either camp, art or science, could attempt. Using the tools of the story, he pulls readers heart-first into a perspective so much longer-lived and more subtly developed than the human purview that we gain glimpses of a vast, primordial sensibility, while watching our own kind get whittled down to size…A gigantic fable of genuine truths." —Barbara Kingsolver, New York Times Book Review (cover review)
Mountaineering: The Freedom of the Hills - Mountaineer Books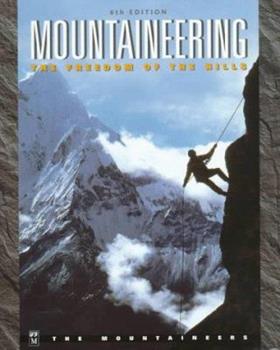 Mountaineering: The Freedom of the Hills is the text beloved by generations of new climbers—the standard for climbing education around the world where it has been translated into 12 languages. For the all-new 9th Edition, committees comprosed of active climbers and climbing educators reviewed every chapter of instruction, and discussed updates with staff from the American Alpine Club (AAC), the American Institute for Avalanche Research and Education (AIARE), and the Access Fund. They also worked with professional members of the American Mountain Guides Association (AMGA), to review their work and ensure that the updated textbook includes the most current best practices for both alpine and rock climbing instruction.
From gear selection to belay and repel techniques, from glacier travel to rope work, to safety, safety, and more safety—there is no more comprehensive and thoroughly vetted training manual for climbing than the standard set by Mountaineering: The Freedom of the Hills.