For better or for worse, literary couples have been intriguing the public since the beginning of time. Their relationships are usually ones of talent, passion, and tumultuous journeys. Here at Echo-Lit, we have compiled a list of noteworthy and iconic couples for the month of love that just might inspire or shock your faculties.
F. Scott Fitzgerald and Zelda Sayre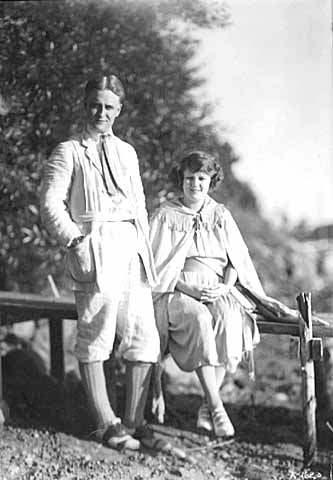 Possibly one of the most iconic and troubled literary icons of all time, F. Scott Fitzgerald and Zelda Sayre inspired each other throughout their literary careers. The couple met when Zelda was 18 and Scott 22, and the pair married on April 3rd, 1920 in New York city after Scott finally convinced Zelda of his financial merit. Sadly, there was usually trouble in paradise for the wild duo who constantly accused one another of plagiarism and adultery. Scott did not think very highly of Zelda`s writing merit either despite copying excerpts from her diaries to put into his novels. The couple bore only one child, Francis Scottie Fitzgerald, in October of 1921. Zelda moved in and out of asylums for decades while Scott`s fame and fortune came to a hault. Despite the bickering, alcoholism, and even threats of divorce, Zelda and Scott recognized the very special bond between them until their untimely deaths.
Allen Ginsberg and Peter Orlovsky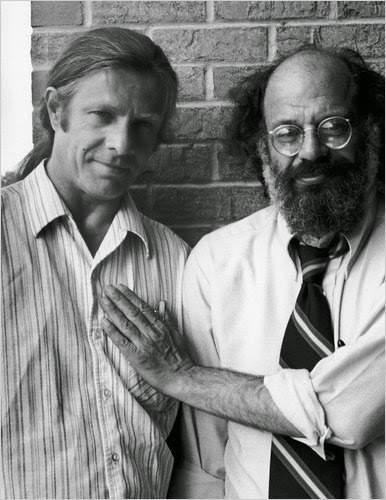 Allen Ginsberg and Peter Orlovsky met in San Francisco, 1954, at Robert LaVigne`s home which he shared with Orlovsky. Ginsberg walked into the abode to find a life size nude painting of LaVigne`s and asked who the subject might be. LaVigne called for Peter to enter the room, and from that moment, Allen Ginsberg knew he was the one. The budding writers became intertwined with the Beat Generation, becoming close friends with William S. Burroughs and Jack Kerouac. Allen and Peter maintained an open relationship throughout their lives, however, they openly spoke of their love for each other for four decades and referred to themselves as married. Major activists for the Gay Liberation movement, their openness caught the public's attention. The pair travelled the world together-- writing poetry, practicing Eastern religions, and experimenting with a wide array of drugs. Ginsberg passed away in 1997, and Orlovsky followed 13 years late in 2010. Their love remains an iconic symbol of the movement and the times.
Virginia Woolf and Leonard Woolf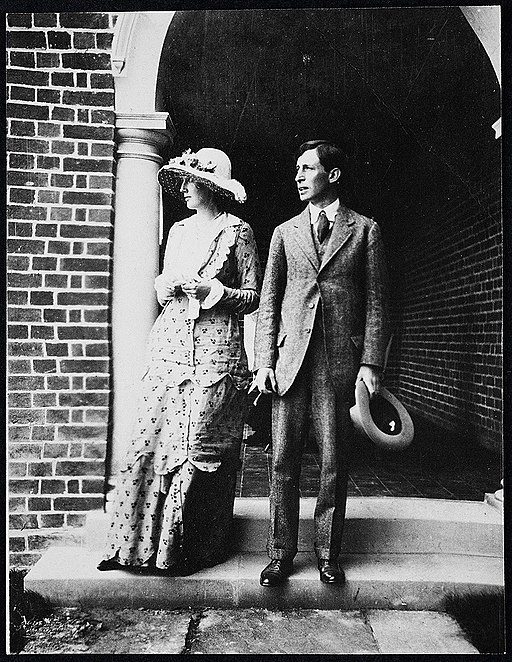 Virginia Stephen met Leonard Woolf for the first time in 1900 at Trinity College while visiting her brother Thoby. Leonard Woolf first proposed to Virginia through a friend that recently broke off an engagement with her in 1909. Virginia believed the proposal to be a joke and denied the request. Two years later, Virginia and Leonard crossed paths again, and Leonard lived above the apartment of Virginia and her brother in Brunswick Square, London. The two spent more and more time together, and Leonard fell hard for the clever and smart Virginia. Leonard proposed to Virginia multiple times until she agreed in 1912. The couple opened their publishing company Hogarth Press in 1915, and Virginia struggled with her mental illness while writing and publishing her classics like The Voyage Out and The Lighthouse. Virginia was also not advised to have children with Leonard because of her mental illness, which was a common practice of the time. Virginia had an affair with Vita Sackville-West in the 1920s, and Sackville-West encouraged Virginia in a positive manner in terms of her health and writing. The two turned into close friends in the 1930s, and all the while Virginia remained married to Leonard. Virginia loved Leonard until her death in 1941, writing in her suicide note: "You have given me the greatest possible happiness. You have been in every way all that anyone could be. I don't think two people could have been happier till this terrible disease came."
Mary Shelley and Percy Bysshe Shelley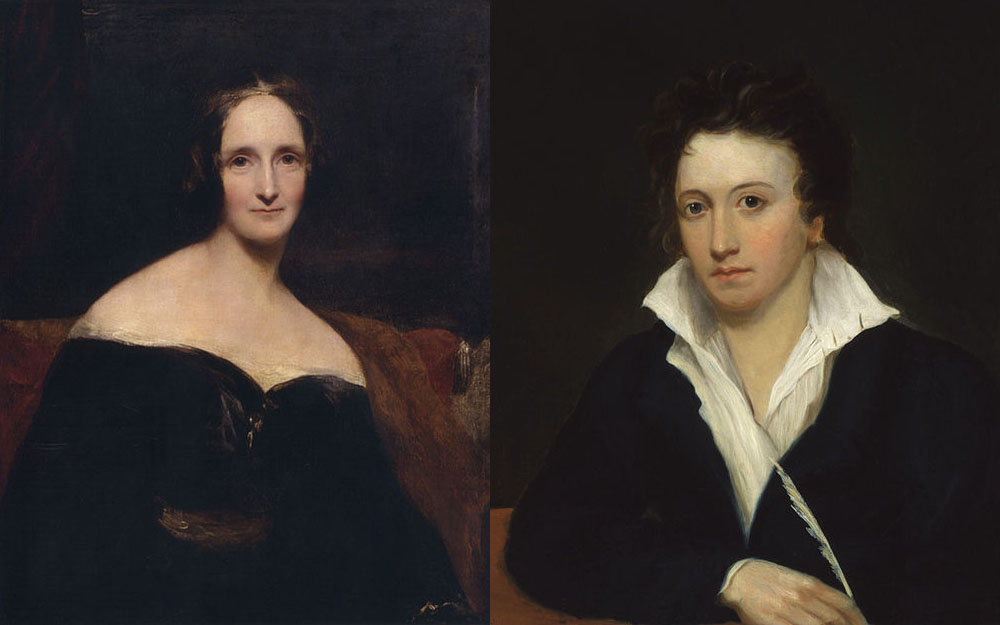 In 1814, Percy, a fan and follower of Mary`s father William Godwin, began visits to their home and quickly befriended the smart and talented sixteen-year-old Mary along with her step-sisters. In Mary Shelley fashion, the young lady and lad walked the rows of the graveyard during their courtship, confessing their love to one another in gothic fashion next to the tombstones. Albeit, Percy Shelley, smitten and dramatic, threatened to kill himself multiple times if Mary did not reciprocate the feeling. Nonetheless, the couple ran away to Europe two times with Mary`s stepsister Claire Clairmont, and on their first return, William Godwin strongly disapproved the relationship. On their second trip in 1816, Percy Shelley left behind his pregnant first wife Harriet Westbrook, who was found drowned in London on December 10th of that year. Mary and Percy waited only three weeks after her death to tie the knot on the 30th of December, 1816.The couple`s relationship was marked with troubles, for Mary Shelley lost three children who died after birth, and Percy supposedly fathered a child with another woman in Italy. In 1822, Percy and his shipmates drowned at sea at the age of twenty-nine in Lerici, Italy. Widowed at the age of twenty-four, Mary Shelley continued her authorship and fought to keep Percy`s legacy alive.
Mary Ann Evans (George Eliot) and George Henry Lewes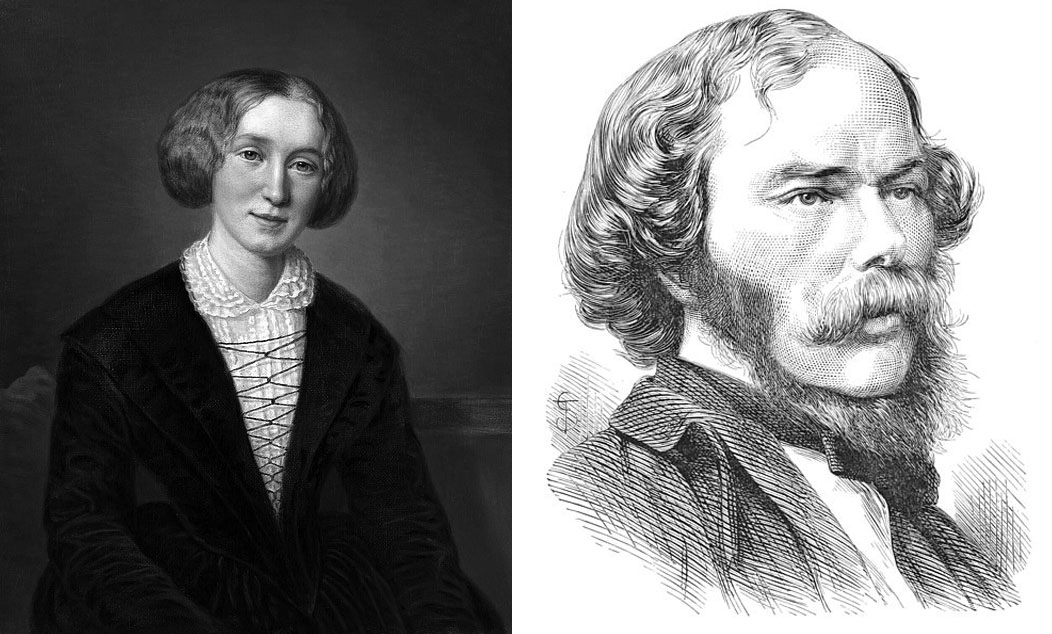 Mary Ann Evans, otherwise known as George Eliot, grew up around Nuneaton, Warwickshire, England in a middle class family. Her father fostered a formal education for the intelligent Mary, but after his death, Mary left for London to pursue a literary career. Mary Ann met George Henry Lewes at the Westminster Review, a magazine owned by a married man she previously had an affair with. George Henry Lewes was married as well, but he and his wife Agnes maintained an open relationship. Because of divorce laws at the time, Lewes was not allowed to divorce Agnes. Nevertheless, Evans and Lewes continued their relationship and traveled to Weimar and Berlin in 1854. Calling one another wife and husband, the pair were openly together despite family and societal disapproval. George Henry Lewes, a philosopher and critic himself, encouraged the talented Evans to continue her writing. Mary Ann Evans utilized the pen name "George Eliot" because she wanted to be taken seriously in the publishing world. As Eliot`s fame rose, society began to accept and respect their almost three decade relationship. George Henry Lewes passed away on November 30th, 1878, and Mary Ann went on to marry friend John Cross two years later. Their marriage was short lived, for Mary Ann died half a year later at the age of 61.