Charleston, WV Mural Tour
One of the things I've missed the most since the world shut down and everyone went home is going out to look at art. My hometown Charleston, WV normally hosts a monthly Art Walk; but in light of the worldwide pandemic, public events like my beloved Art Walk are on indefinite hold. Lately, I've really been craving a long gallery wander or museum stroll. This past weekend, my husband and I decided to hit the town, Covid style, to check out some of the great array of public art Charleston's streets have to offer. We did our best to avoid crowds and wore masks when we couldn't. We got to enjoy the fresh air, a gorgeous day, and a cheap Sunday afternoon date.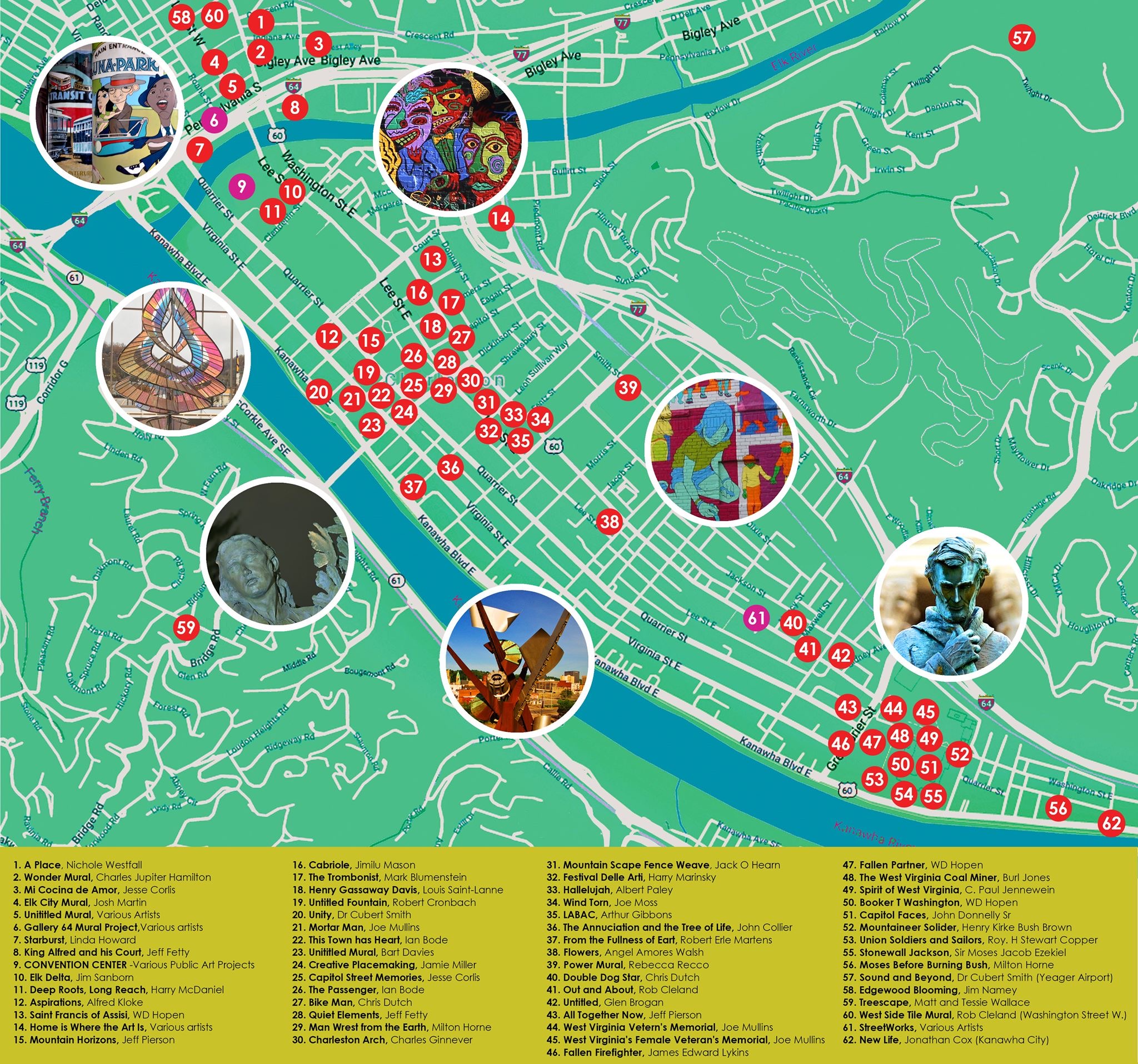 First, I'd like to thank Renee Jones and Jeff Pierson of the City of Charleston for their help with details regarding artists, titles, and locations of various murals as well as Lauren Hunt with the Charleston Convention & Visitors Bureau. The map above from the office of Public Art is a great resource for anyone who wants to explore Charleston's streets on a self-guided art tour. Throughout this article, I've done my best to credit the artist and title (I am also including Instagram handles for artists when available); I will also reference the number assigned to each piece on the map, when the artwork it is included on the map. Some pieces I've featured are too new to be on the map, others are private murals visible to the public - in those cases, I've done my best to give a location.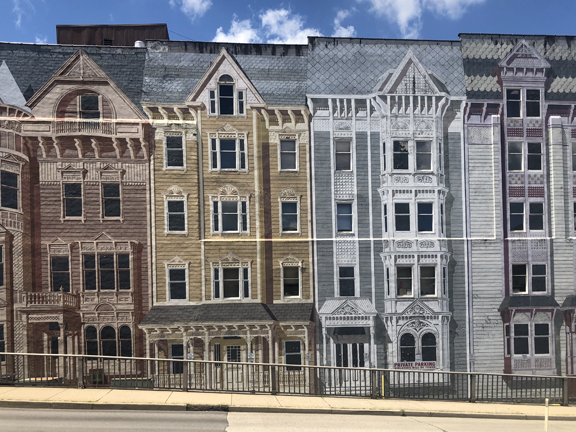 Untitled mural - Bart Davies - #23
This is one of the oldest murals in town. My favorite feature of this mural is the incorporation of the extant windows into the design of the mural.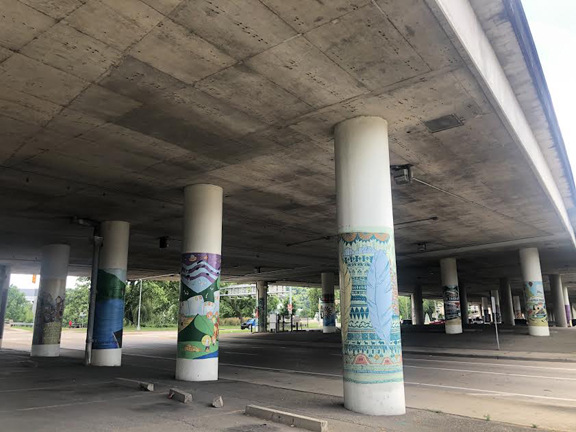 Gallery 64 - Various Artists - #6
The support piers under the interstate feature wrap-around designs on 56 columns.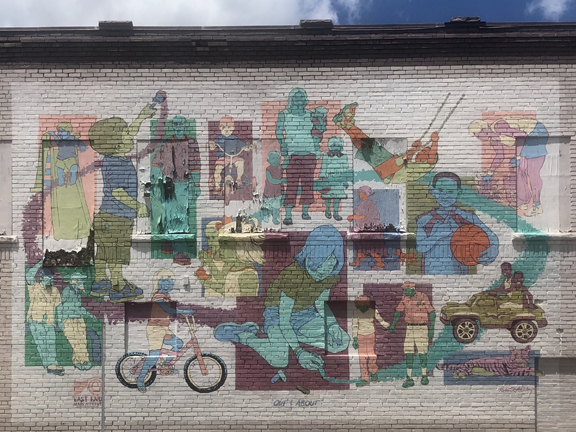 Out & About - Rob Cleland - #41
I love the colors and the youthful subject of this mural. When I spoke to Mr. Pierson, he let me know they are working to update and repair the parts that are showing some signs of age and deterioration.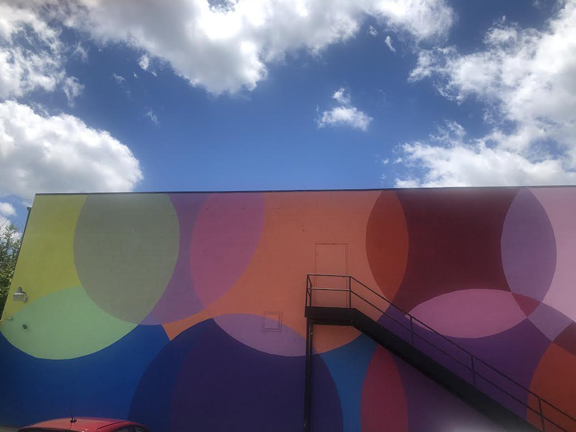 The Volunteer Mural - designed by Jack O'Hearn (@jackohearniv) and Jeff Pierson (@jpiersona)
308 Elizabeth St., facing North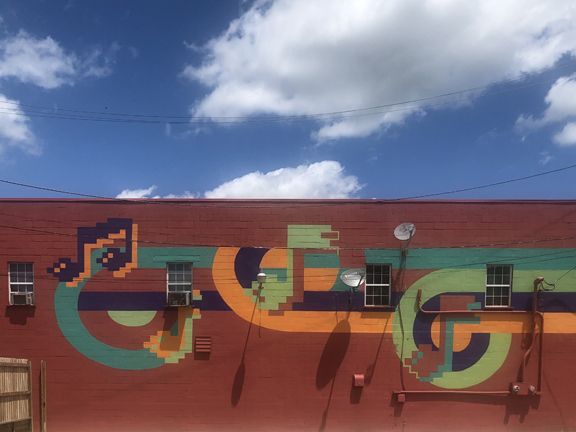 Untitled Mural - Ian Bode (@ianbode)
308 Elizabeth St., facing South.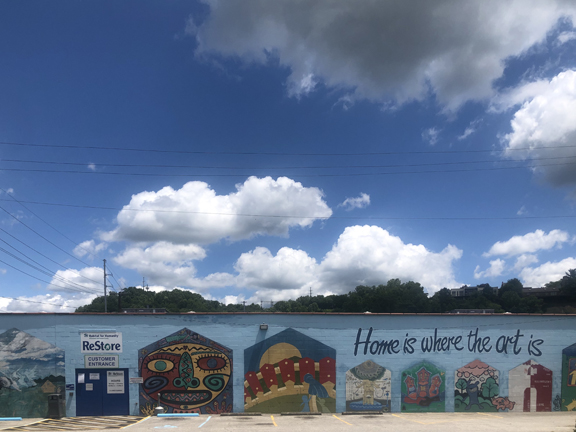 Home is Where the Art is - Various Artists - #14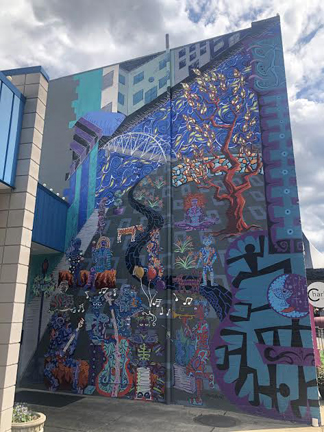 Untitled Mural - J.P. Owens (@owensart) - The Shops at Bridge Road
South Hills is finally getting in on the public art game. Residents and shoppers entering the Bridge Road shopping district are greeted with this fantastical interpretation of the city.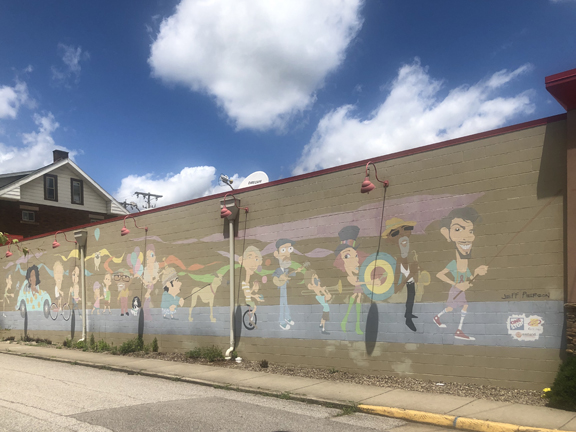 All Together Now - Jeff Pierson - #43
I love that this mural represents several familiar faces from around Charleston!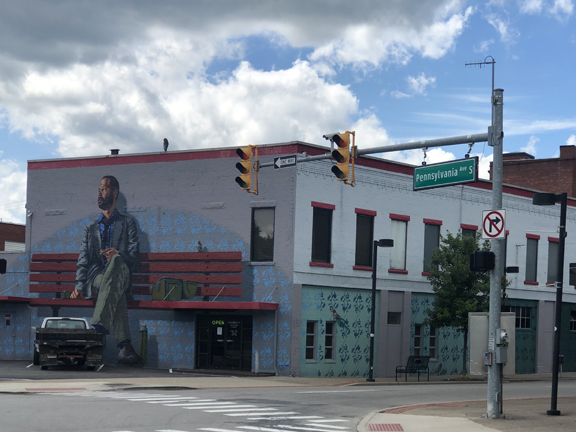 Dreamer - Dan Toro - corner of Pennsylvania and Washington streets
I'd never noticed that the pattern as well as the birds wrap around the side of Gardner's Cleaners along the Washington St. side of the building until we went out Sunday and I had a good chance to look more closely at it.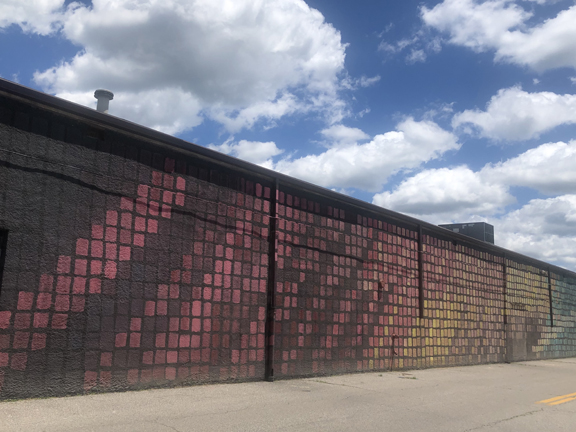 Power Mural - Rebecca Recco (@carpeyousomediem) - #39
An otherwise drab street was enlivened with this vibrant mural. Many a family group photo and senior portrait has been posed in front of this beautiful large-scale mural.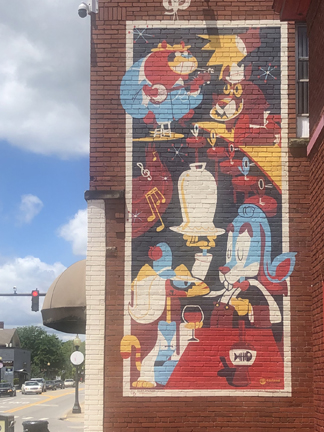 Untitled mural - Glen Brogan (@glenbrogan) - #42
This mural is a perfect choice for an intersection that hosts several restaurants.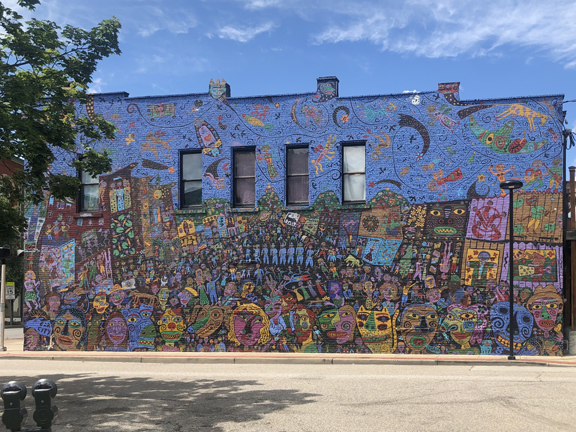 Wonder Mural - Charly Jupiter Hamilton (@charlyjupiter33) - #2
Caricatures of local personalities and humorous details are sprinkled throughout this playful mural in Elk City.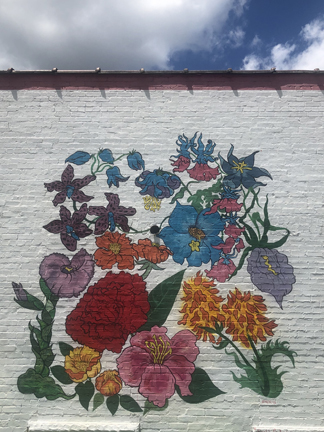 Flowers - Angel Amores Walsh - #38
Bright florals mural brings vibrancy to the side of an empty lot.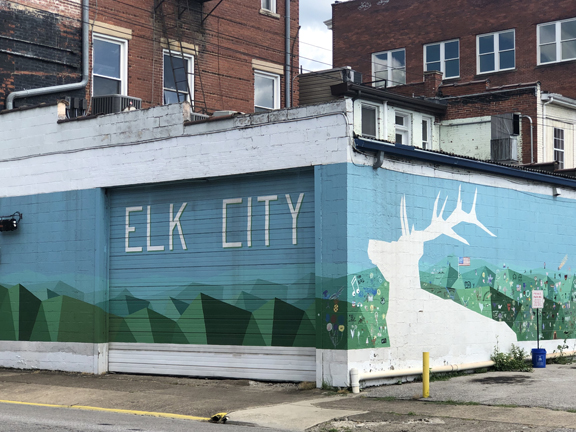 Elk City Mural - Josh Martin (joshmartin_wv) - #4
Community artists embellished personal additions over Josh Martin's modern, angular design at the heart of Charleston's newest community on the rise.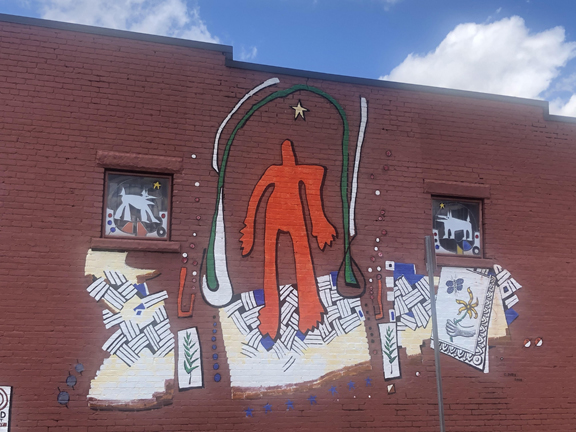 Double Dog Star - Chris Dutch (@chrisdutchstainedglass) - #40
Mirror-image stained glass windows bookend a playful mural in the center of Charleston's East End.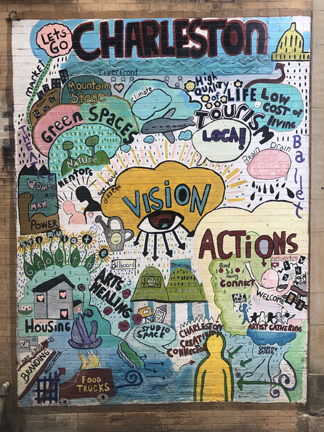 Creative Placemaking - Jamie Miller (@jamiemillermakes) - #24
By highlighting the many aspects that make up a thriving, creative community, this mural is both a portrait of our fair city as well as a roadmap for growth.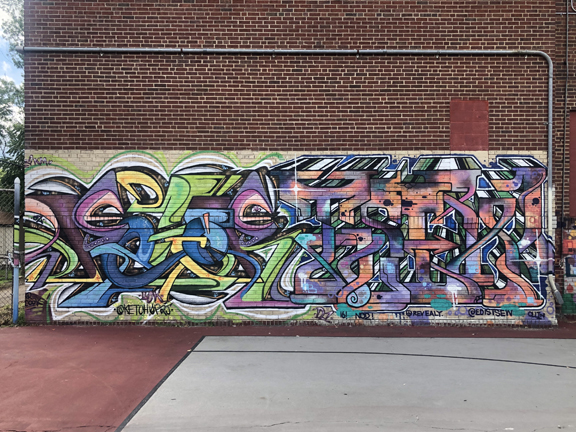 Graffiti - Justin Withrow (@ketchup2j) and Billy Marple (@edistsew) - Paul Laurence Dunbar Second Avenue Community Center
A friend posted a photo of her kid watching a pick-up basketball game at the community court and included just a corner of the artwork, and I had to go see this one for my self!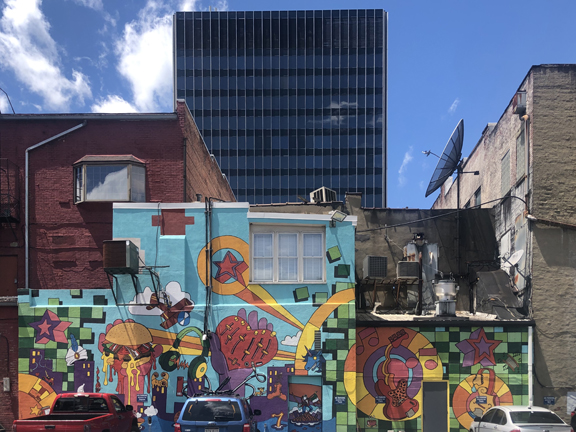 Don't Tell Me This Town Ain't Got No Heart - Brian Pickens (@brianbpickens) and Ian Bode - #22
The biggest burger in town as well as allusions to our talented musical scene make this joyful mural a favorite of mine.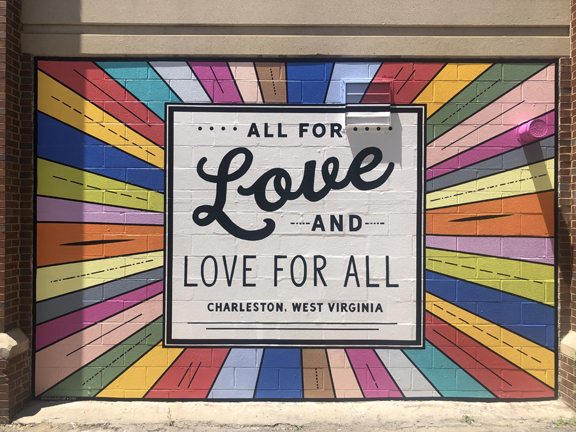 All for Love Mural - Melissa Doty (@melissadoty.art) - Quarrier St. Behind Black Sheep Burritos
The newest mural in town, freshly completed; after reading that it was finished, I had to go check it out!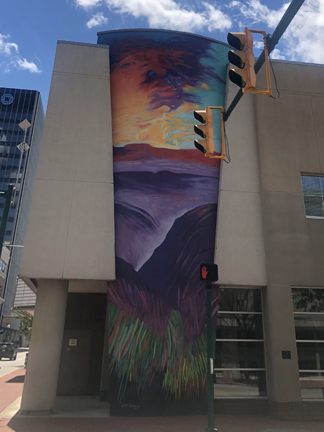 Mountain Horizons - Jeff Pierson - #15
I love that even in the middle of downtown, we still get a sliver of the mountains and a glimpse of a fiery sunset.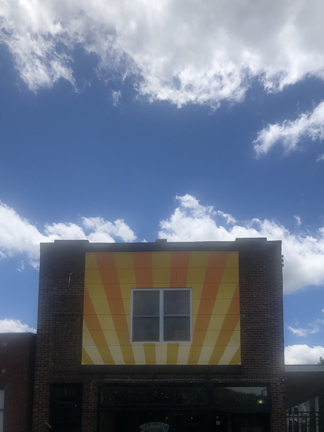 Untitled mural - Rob Cleland - 1589 Washington St. E
A sunny mural, sure to make you smile, it was a welcome surprise to see this addition to the Starlings facade.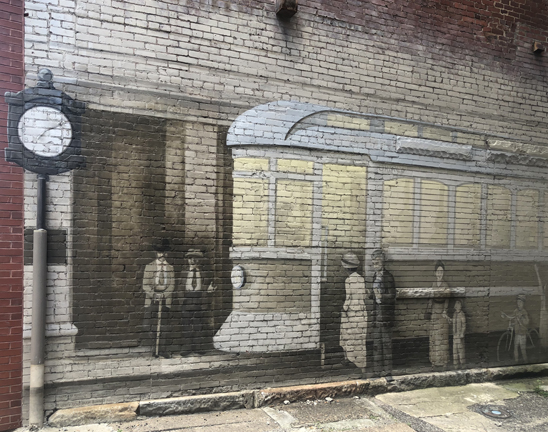 Capitol Street Memories - Jesse Corlis (@jescopaints) - #25
In person, this mural always makes me think that I'm looking at ghosts of everyday folks of Charleston going about their daily business, just one hundred years ago.

Artist Alley - Various Artists - Alley across from 200 W. Washington St.
From left to right, artists are: Blake Wheeler (@bewheel), Emily Sokolosky(@basecamprinting), Robert Howsare (@roberthowsare), Kayleigh Phillips (@payleigh), Nichole Westfall, Angel Harless (@angelharlesstattoos), Molly Must (@molly.must), Leah Towler(@artlubberleah), and Brianna Allen (@bristar333).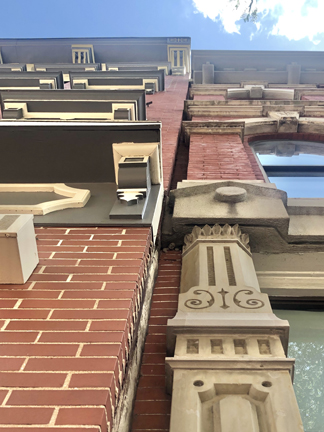 Mortar Man - Joe Mullins - #21
While I've limited my entries until now to murals, no public art walk through Charleston is complete without looking for Mortar Man. My tips for spotting him - look up and take your time. Mortar Man is a delightful hidden gem of downtown reminding us that sometimes you just have to slow down to find wonderful things. With the exception of Mortar Man, I completely skipped all the wonderful 3D works there are to be seen in Charleston. I guess I'll just have to go for another walk around town soon.